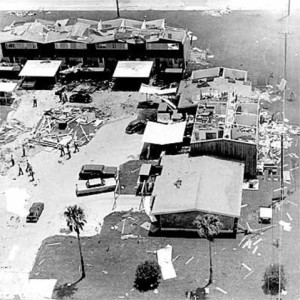 Where were you 46 years ago today?
I know that plenty of you will say… "I wasn't even born yet".
It is especially for you, and for everyone else who was not in Corpus Christi, TX on that day that I share my story. You see, there are events in our lives that effect us forever so that even decades later, we can recall in detail what happened on that day and can tell our friends exactly where we were and what we saw!
Events like the Kennedy Assassination, Neil Armstrong first walking on the Moon and the all too recent collapse of the Twin Towers. I'm a 5th generation Corpus Christian so if you lived in Corpus Christi on August 3rd in 1970, you know that today is the 46th Anniversary of such an event.
Her name was Celia and she was the only hurricane to strike US. soil in 1970! Hurricane Celia pounded our Coastal Bend with maximum sustained winds of 125 mph and gusts of wind up to 175 mph. The National Weather Service reported gusts reaching 160 mph and she caused more than $450 million in damage (more than $7 Billion in today's money) to thousands of homes and businesses in Corpus Christi, Port Aransas, Aransas Pass, Portland, Ingleside and Rockport..
I was still in elementary school but what I saw that day and more importantly, what I saw and felt the next several weeks following that day, made me aware of how important it is to be prepared during Hurricane Season. Thank God for me, my family knew what to do and how to prepare. After all, my Grandparents and Great Grandparents survived Corpus Christi's infamous storm of 1919 and my Mom and Dad had seen their share of storms prior to Celia.
Back then, very few folks evacuated before a Hurricane but those who stayed knew what to do and were well equipped to handle the hard life without electricity, air conditioning and some times water for two weeks or more after the storm. I will never forget how hot and humid it was so if you thought the recent water boil was an inconvenience, you've got a lot to do to prepare yourself before our next big storm strikes!
That being said, there is a storm soon to enter the Gulf of Mexico and the heart of Hurricane Season is almost here so if you have not done so already, now is the time to prepare and to know what precautions are necessary:
Have a Weather Radio.
Fill your Hurricane Kit.
Plan your evacuation route and decide now what will trigger your plan into motion.
Discuss your Plan with your family, friends and loved ones.
Don't think it can happen to you, Check out this home movie on youtube of "Her Name was Celia". https://www.youtube.com/watch?v=zCZUCJMiZvA&feature=youtu.be
This video can't duplicate the fear, heat and humidity that we felt nor the smells that we experienced from the thousands of tons of debris that Hurricane Celia left behind but you can see second hand the destruction that she left and you can get a feel for how important preparedness is and how important it is that you have the right windstorm and flood insurance protection. He heart of Hurricane Season sill soon be here so call Ed Cantu Insurance Agency today at 361 991-3575 for help before it's too late!
Because we care,
Ed Cantu
p.s. check out www.edcantuinsurance.com for additional Hurricane Preparedness information including a special report from Hurricane Expert Dr. Steve Lyons