The 2020 Hurricane Season has been the most active one decades and it's not over yet!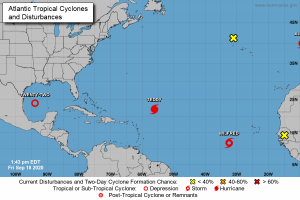 Tropical Depression 22 could turn into this year's next Tropical Storm or Hurricane. According to the National Ocean and Atmospheric Administration (NOAA), hurricanes may pose the greatest threat to life and property but tropical storms and depression also can be devastating. The primary hazards from tropical cyclones are storm surge flooding, inland flooding from heavy rains, destructive winds, tornadoes, and high surf and rip currents. Regardless the storm size, now is the time to prepare!
Things to do and have now:
*Create an emergency communication plan with your family before a hurricane.
*Be aware of emergency alerts and warnings and how to share them with your loved ones.
*Know your evacuation route and where temporary shelters may be set up to serve your area.
*Create a plan to let friends and family outside of the area know you're safe or that you need help.
*Have emergency supplies in place at home, at work, and in the car.
*Below is a basic kit; you should also think about your pets and any medication you may need.
*Water- one gallon of water per person per day for at least three days, for drinking and sanitation.
*Food- at least a three-day supply of non-perishable food.
*Battery-powered or hand crank radio and a NOAA Weather Radio with tone alert.
*Have Flashlight, extra batteries, First Aid kit, Whistle to signal for help.
*Have dust mask to help filter contaminated air and plastic sheeting and duct tape to shelter-in-place, moist towelettes, garbage bags and plastic ties for personal sanitation.
*Have wrench or pliers to turn off utilities, manual can opener for food, local paper maps (Cell phone service could be down)
*Cell phone with chargers and a backup battery.
It's too late to add or make changes to your insurance policies now so have your valuable insurance papers and other important paperwork with you and call Ed Cantu Insurance Agency at (361) 991-1493 after this storm clears to prepare for the next one.
Stay tuned to the weather channel and go to https://www.weather.gov/safety/hurricane for additional Hurricane Safety Tips.
Because We Care
Ed Cantu
Ed Cantu Insurance Agency
www.SmartWindstormInsurance.com